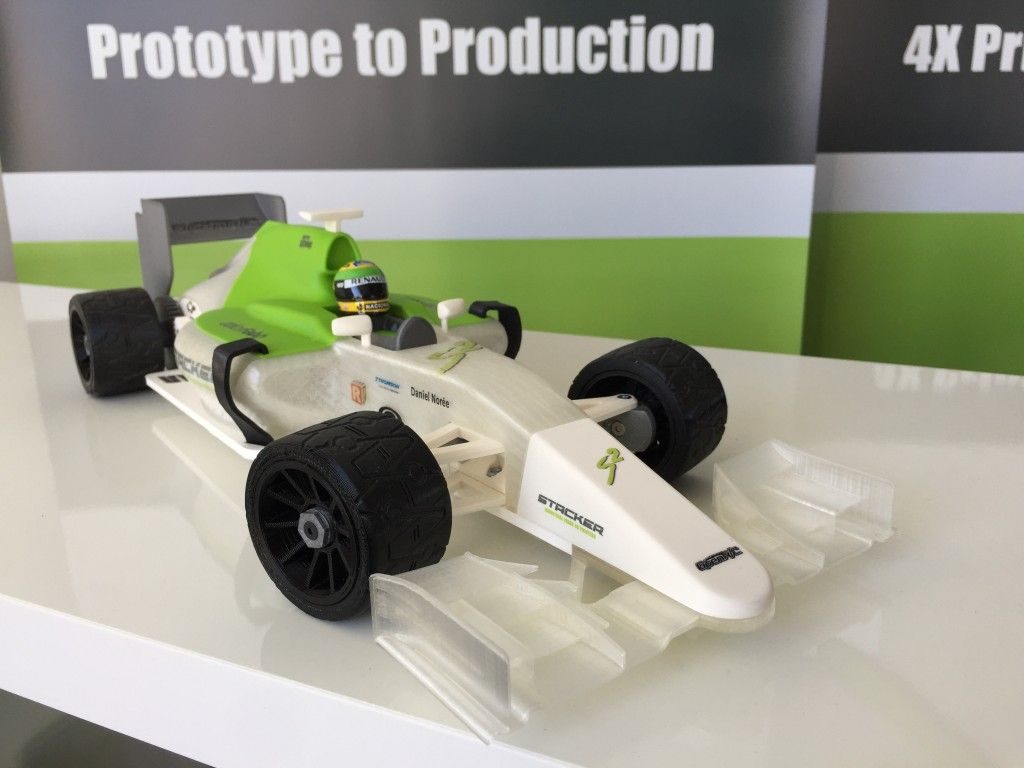 Stacker Offers Three Different FDM (FFF) 3d printers
|   | Build Volume | Number of Print Heads |
| --- | --- | --- |
| STACKER F-SERIES MODEL 1 | 285MM X 285MM x 285MM (11.22″ X 11.22″ X 11.22″) | 1 |
|   |   |   |
|  STACKER S4 | 510mm x 365mm x 650mm (20″ x 14″ x 25″) | 4 |
|  STACKER S4-XL | 635mm x 610mm x 610mm (25″ x 24″ x 24″) | 4 |

Why Stacker?
STACKER Industrial Grade 3D Printers are purposely built so you can move your ideas from prototype to production.  Our Industrial Grade 3D printers are designed and priced for small businesses, tech labs, colleges, busy offices, maker spaces, print/prototype shops, manufacturing plants, and most other kinds of businesses.  Our printers offer fast, reliable, and affordable 3D printing.
What Does "Industrial" Mean?
High Strength All Steel Chassis
The key to high performance 3D printing is having a chassis that is beyond rigid while also absorbing unwanted vibrations. This is where design and engineering cross paths. Our chassis is formed with special AC Servo driven presses that are unmatched in precision repeatability, as well as maintaining the integrity of the steel during the bending process. Most parts are formed on the most advanced and modern punch presses by Trumpf. All parts are powder coated, not painted. Powder coating is much more environmentally friendly, and much more durable.
Precision Built
All S4 printers are built around a massive high precision custom building jig. In fact, the S4 chassis and building jig were designed together. That's how important it is to get your things right. Essentially, the building jig ensures the X/Y plane is in the correct relationship to the Z plane. This is a lot easier said than done, and most other printers have no way of gauging this short of making a test print.
Made in U.S.A.

A true Industrial Grade 3D printer should be assembled by a highly skilled workforce.  Our 3D printers are exclusively made in the U.S.A.  We could reduce costs by outsource our manufacturing to a country with questionable labor standards and weak environmental protection laws, but in order to maintain the best quality and safest products, you cannot take shortcuts.  Stacker printers are proudly made in the U.S.A.